Fuelbuddy Knowledge Corner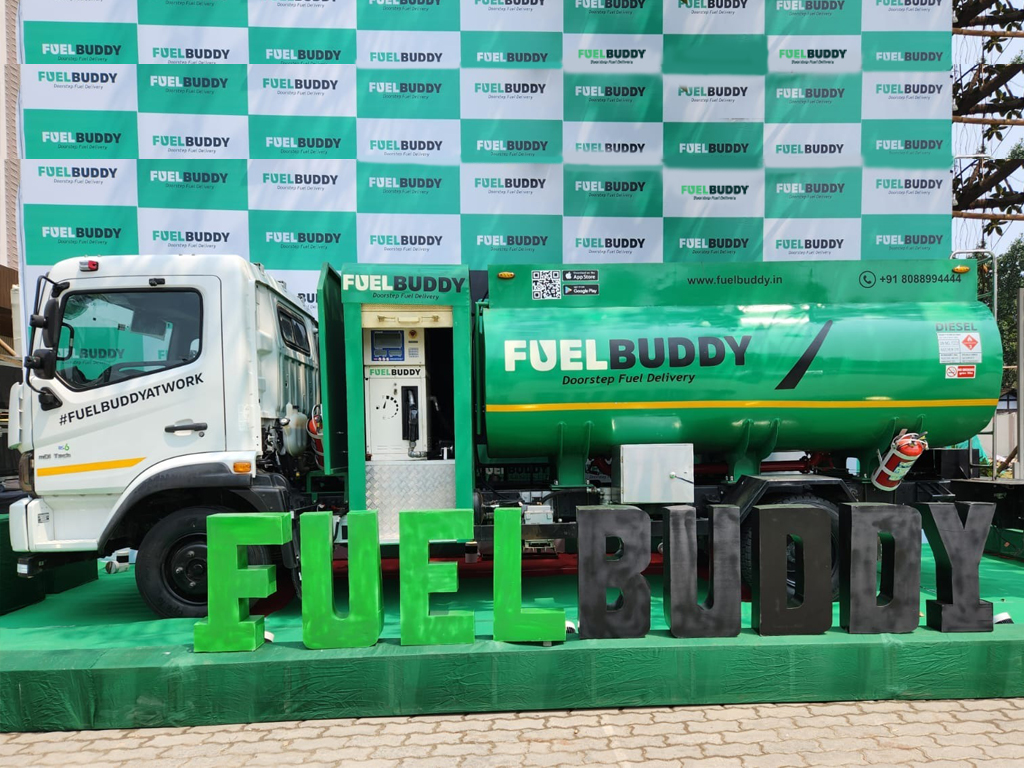 Technology is continuously shifting due to the rise in internet accessibility. Post Covid, digital adoption across sectors has surged dramatically. With the speed of change having entirely altered the world we live in, it is not only important to provide consumers the products they want but also to understand when, where and how they want to buy them to redefine the sense of convenience. With continuous technological innovation in addition to millions of food delivery apps, grocery apps, and apps for travelling in the city making our daily life convenient, why wouldn't one want an essential doorstep fuel delivery service that would cater to one's fuel needs?
With the day to day growing demand of India's daily fuel consumption and diesel being the most widely consumed form of fuel by industries, the demand is constantly increasing with every passing month. In the month of November, diesel saw a staggering 27.6% rise in sales as compared to same month, last year. With technological innovation being fundamental to the core of the Oil and Gas industry, innovations are focused on leveraging computing as well as technological resources, consequently, solutions have enormous potential when it comes to improving communications and addressing the industry's unique environmental challenges, as well as the demand and supply gap of the fuel industry. These technological shifts are shaping the industry's operations along with its offerings, marrying old and new product practices, and unlocking resources previously considered unattainable, thus resulting in improvements in efficiency and productivity whilst reducing the impact of operations and products on the environment.
Players in the sector who have been efficient and swift to adapt view the power of digitization as the key to unlocking the benefits they seek and can gain a significant competitive advantage over rivals. The impact of leveraging digital initiatives will only grow as the industry continues to grapple with uncertainties, volatilities, and external threats. The oil and gas sector has, from its outset, always been wide open to innovation and every kind of modern technology. Automation has constantly shaped, and reshaped every stage of the industry, from exploration right through to final usage. One such technological development is 'The Doorstep Fuel Delivery'model, which is the ordering of fuel via an online mode that allows access to fuel at a convenient location, reduces transportation costs, reduces environmental impact, and provides timely as well as hassle-free delivery. Every year, billions of tons fuel is illegally stolen, adulterated, or spilled in transit. With the 'doorstep delivery model' the fuel is centrally monitored and completely reduces the chances of any illegal activity thus ensuring quality delivery of fuel at the consumer's doorstep.
In 2017, The Petroleum and Natural Gas Ministry started considering the idea of legalisation of home delivery of High-Speed Diesel. This idea led to the Ministry announcing a trial project for fuel delivery to consumers' doorsteps in March 2018. The project participants were the government, start-ups, Oil Marketing Companies (OMCs), and Petroleum and Explosives Safety Organisation (PESO). The result of the announcement was the rapid growth of the fuel delivery model as more people are willing to opt for fuel coming to their doorstep as they expect seamless communication together with increased personalization in services. The whole model focuses on those who will provide fuel to the end customer efficiently (safe & pilferage free) plus conveniently. So, technology-enabled doorstep fuel delivery applications not only allow customers to save time in addition to convenience by getting access to fuel anytime and anywhere but also helps bulk consumers save big on their fuel bills as it provides with the option of centralised billing for multi-site and multi asset customers. This also enables them to use technology to track and monitor fuel management & consumption. In addition to this, fuel delivery companies have various modes of transportation which helps in reducing dead mileage by delivering the fuel in the most suitable mode and not half empty trailers which will in turn increase the carbon footprint. This will also help reduce the national fuel import bill.
The legalisation of doorstep diesel delivery has further opened up a huge previously untapped market. According to an industry report, the mobile fuel delivery market is anticipated to record a CAGR of 6.8% during the forecast period (2022 – 2032). The increased scope is backed with safety-related challenges and concerns raised by authorities. Regulatory issues are something every on-demand fuel delivery app must address sincerely to run sustainable operations. Fuel delivery start-ups are taking necessary precautions and measures like using high-quality tanks, and security systems to restrict unauthorised entry and safety systems to cut off main tanks during an exigency, dealing with improper security systems, inadequate fire safety arrangements, improper logistics planning, and inefficient route management. They also, make sure not to exceed the regulatory amount for the fuel being carried for additional security.
Mobile fuel isn't the future, "it is the present"
Growth in mobile fuel delivery would continue to be driven by several factors, such as the global supply chain and fuel trade economics, structural limitations of the current distribution model, shifting consumer requirement patterns, and technological disruptions. The government is also aggressively supporting the idea of Doorstep Fuel Delivery. The ever-changing needs of customers have forced companies to adopt new profitable solutions to meet those needs in fact according to an industry report, Last Mile Delivery Market will grow with 20.3% CAGR Through 2030. With start-up's tying up with various government and private bodies for marketing various products, it gives boost to the oil and fuel industry for the country. The doorstep diesel delivery is not just one of many necessities but the absolute need of the hour. With various payment aggregators and methods available on fuel delivery apps, there is a successful partnership being established with various fintech's to make fuel availability on credit a priority for consumers. Just as the goodness from soil trickles up to the last of leaves in a plant, a well-connected and digitized energy network has the potential to take India and the MSME's in fuel industry to successful heights and unfurl its innate potential.