Fuelbuddy Knowledge Corner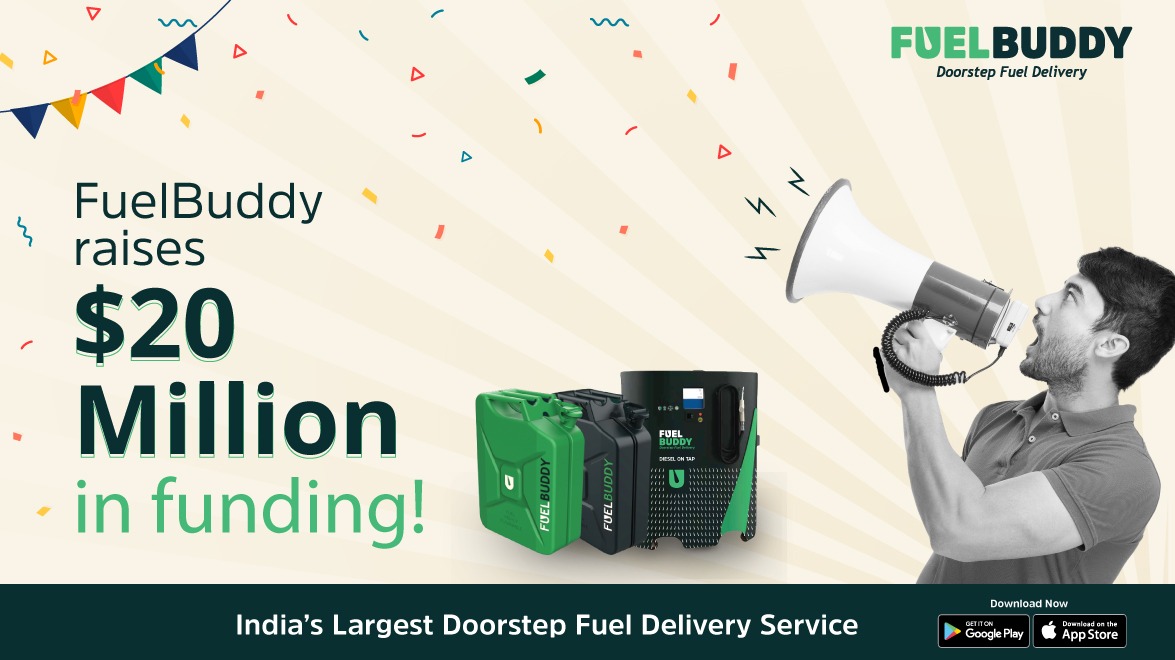 FuelBuddy, India's first and largest mobile energy distribution platform that provides a sustainable solution for businesses today announced raising a round of USD 20 mn from global conglomerates led by Naveen Jindal Group, Ravi Jaipuria Group (RJ Corp) and Nilesh Ved (Apparel Group, UAE).
The New Delhi-based company witnessed major growth and expansion by being a category creator and filling a gap in the fuel-delivery business in the country. FuelBuddy had previously announced its intent to expand into the UAE market and is now ready to launch its services there shortly. With these fresh funds, FuelBuddy is poised for an aggressive expansion in India, the overseas markets in the MENA region, and South East Asia.
The funds will also be used to increase the geographical presence in the country, enhance the technology used, and also to expand their services to alternative energies such as EV, Gas etc. The startup also recently forayed into the lubricants space with their partnership with Indian Oil Corporation Limited (IOCL) and Hindustan Petroleum Corporation Limited (HPCL).
With over 45,000+ satisfied customers and operations in 130+ cities, they have served about 10 crores litres of diesel to an array of partners across the country including Varun Beverages Ltd., Coca-Cola, Amazon, DLF, Infosys, Taj, Hitachi, Amazon, Flipkart, Mahindra Logistics, and Delhivery to name a few. FuelBuddy is already expanding to tier-two, tier-three cities and rural areas pan-India and is working towards setting up operations in African, South-Asian regions, and Dubai.
FuelBuddy is backed by SK Narvar. Commenting on this funding, he said, "This round is a strategic investment to further the vision that we have for FuelBuddy to expand aggressively internationally. We are confident that FuelBuddy will emerge as a leader in the international markets as well. FuelBuddy's transformative solutions in the Indian markets have helped us grow exponentially and strengthen our business across geographies. There is no doubt that with the high standards of customer service, FuelBuddy will continue to disrupt the energy delivery industry globally."
Talking about the funding, Amit Dang, CFO Jindal Power Limited, said, "FuelBuddy is a pioneer in the fuel-delivery business in India. We have witnessed their sizable growth in the last few years and trust them to grow exponentially in the coming years too."
Nilesh Ved added, "FuelBuddy is working towards accomplishing India's goal in becoming a technology-first nation. With this latest funding, we believe that FuelBuddy is ready to set their mark in Dubai and venture into the GCC region as well."